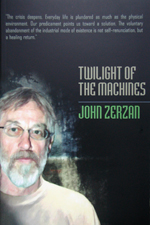 In this episode, Rob and I discuss John Zerzan's Twilight of the Machines. The description on Powell's reads:
"The mentor of the green anarchist and neo-primitive movements is back with his first book in six years, confronting civilization, mass society, and modernity and technoculture—both the history of its developing crisis and the possibilities for its human and humane solutions.
As John Zerzan writes, 'These dire times may yet reveal invigorating new vistas of thought and action. When everything is at stake, all must be confronted and superseded. At this moment, there is the distinct possibility of doing just that.'"
Rob and I discuss the history of civilization as put forth in the book, primal anarchism, static language vs. language of becoming, symbolism, depression, immediacy, and whether or not art is inherently bad. We also discuss how to apply the ideas presented in this book. How do we begin to tear off the Band-Aid that is our modern lives?